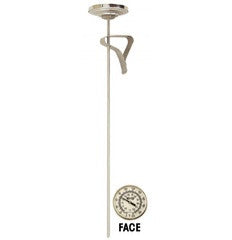 Thermometer Deluxe 2" Dial x 12"
High quality superior design provides a faster response to temperature changes and assures more accurate readings. Read more to find out why...
Not all bi-metal thermometers are created equal. Really. The problem with most bi-metal thermometers is that hang ups occur and you have to tap the thermometer to get an accurate reading. The cause of the problem is that the bimetallic helical coil in the stem of other bi-metal thermometers is tack welded to the stem itself. This thermometer features a super sensitive bimetallic helical coil suspended from a copper coated bushing fixed in the stem.

They are also accurate to 1% of the total range, feature a polished 2" 304 stainless steel housing, a hermetically sealed water proof case, and glass face. The range is 20-220 Fahrenheit and -10-100 Celsius. The 12" stem is 1/8" stainless steel. This is a very different thermometer than some of the other low quality 2" x 12" thermometers that are currently on the market.
Kettle Clip included.
---
We Also Recommend
---