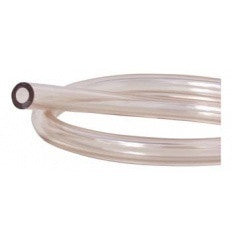 Beverage Tubing 3/16" ID
Sold by the foot.  3/16" is the best size for most beer lines under 9' in length. Ideally, 5' provides the correct restriction for serving beer in the 8-14 psi range.  
Special dual durometer construction combines a low extraction inner contact surface with a flexible outer layer for excellent kink resistance and taste protection properties.
No-foam, super smooth bore. Crystal clear. Odorless, tasteless.

Technical Specifications: 3/16" line provides 2.2 lbs of restriction per foot. Ideally pounds of resistance should equal pounds of applied pressure. 3/16" line holds 1/6 of an ounce per foot.
Made from PVC.
3/16" ID, 7/16" OD, 1/8" Wall thickness
May also be used for air line. FDA approved
Quantity ordered will be shipped as a single uncut length.
---
We Also Recommend
---