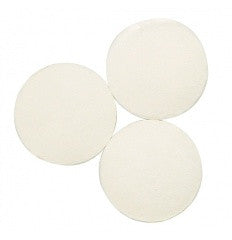 Campden Tablets (SO2)
Sodium Metabisulphite, (often referred to as "SO2", "sulphites" "meta", or "meta-bi") has several uses in winemaking. At the crush, sulphites are generally used to help control the spoilage bacteria and indigenous yeast that may already be present both on the fruit and in the winery (i.e. on the picking bins, processing equipment, tanks, tubing, etc). The amount generally used is enough to inhibit most of the unwanted organisms but not enough to hinder a cultured yeast, which has a higher tolerance to sulphites than most of the indigenous organisms do. This inhibition effectively "wipes the slate clean" for the cultured yeast to step in and rapidly colonize the must so that it can effectively dominate the subsequent fermentation. In addition, sulphites also help to inhibit the enzymatic browning of both musts and finished wines so that all of their delicate complexities can be preserved. Later, during storage and in the bottle, sulphites at the proper levels will further protect a wine by continuing to inhibit spoilage organisms, as well as by scavenging oxygen .
Note that the exact amount needed to effectively do the job is determined by the pH of the wine. In addition, it's important to keep in mind that free SO2 levels fall faster in wood cooperage than in glass or stainless, so if you are using a barrel you will most likely need to manage sulphite levels more closely.
---
We Also Recommend
---