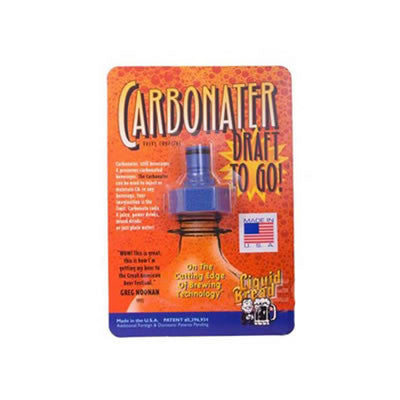 Carbinator
Soda or Beer Carbonator Cap for Soda Bottle
This Soda carbonating cap works great for using a standard 2 liter (and other sizes) soda bottle to transport your beer fully carbonated. You can also use it for carbonating your own soda, water or juice. We also use it for carbonating water for sparkling water.
The key is to make sure your beverage is very cold (cold liquids absorb CO2 much faster).  Leave about 3" of head space in the bottle and attach the carbonator cap to the bottle.  Squeeze out all the air from the bottle and tighten the cap on the bottle.  Attach your CO2 gas line to the carbonator cap with a Gas Ball Lock Disconnect, turn your regulator up to 20-30 PSI (DO NOT EXCEED 40 PSI !!!!), shake vigorously for a minute or two (or until you reach the desired carbonation level) and enjoy your carbonated beverage!
Very easy to carbonate using a standard Gas Ball Lock Disconnect on your homebrew keg setup. 
This is also great for carbonating water and making your own bubble water!
---
We Also Recommend
---