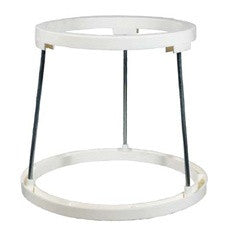 Carboy Drainer White
Safely drain your carboy with this very handy drainer rack. Allows you to drain, and then dry, your carboy long before you need it. Bacteria fall down, not up so as long as carboy is in inverted position it should remain sanitary.

The high drainage point allows for easier, faster draining, especially into a sink. As a full carboy drains your sink will build up water faster than it goes down most drains. If you are using a low profile drainer the neck of the carboy can end up below the water line which really slows drainage.

Constructed from a combination of plastic rings and stainless steel legs with a wide footed base. Made in USA by Fermentap.
---
We Also Recommend
---