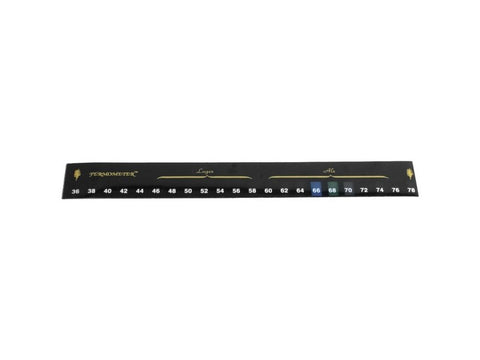 Fermometer
Liquid crystal thermometer which adheres to the side of a carboy, bucket, or even stainless conical to tell you the fermentation temperature. 36-78 F range (Fahrenheit only, not available in Celsius). This has always been a best selling product!

The Fermometer, versus generic versions that are slightly cheaper, is the more precise scale of 36-78F .There are handy suggested Lager and Ale temperature ranges printed right on it. An example of the more precise scale would be that on this unit it easy to tell 1 degree of difference, say between 72 and 73 degrees. The more generic units can sometimes jump 4 degrees.

Savvy homebrewers know that even 1 degree of temperature difference can have a big affect on the final flavor outcome. You may or may not have control over temperature but it is still helpful to know the exact fermentation temperature and to log it in your records.
---
We Also Recommend
---