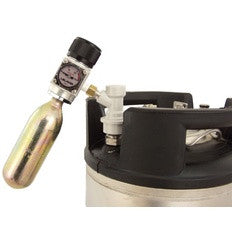 Mini CO2 Regulator Kit
The mini regulator kit features total portability with all the features of a full size regulator. The regulator has a range of .5-1.5 bars which equivocates to 7-21 p.s.i.. Unlike the injection type CO2 dispensers, the mini regulator allows you precisely dial in your desired pressure and keep it there. It utilizes its own disposable 74 gram (NOT INCLUDED) CO2 cartridge, which is the largest size that can be shipped full. One 74 gram cartridge will dispense one 5 gallon keg.

Comes with regulator, one gas in quick disconnect QD and the associated hardware.
74 gram CO2 cartridges are sold separately on our webstore
---
We Also Recommend
---