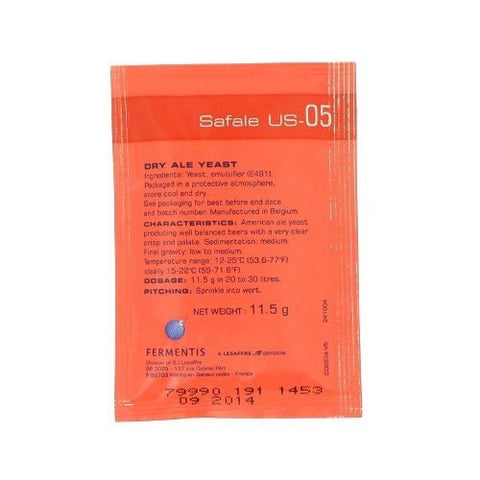 Safale US-05 Dry Yeast
Safale US-05 (Saccharomyces Cerevisiae)
US-05 (Formally US-56), is a strain of yeast that creates that classic American profile of clean malt, crisp taste, low diacetyl, and ability to ferment in a wide range of temps. Look for US-05 to be the next popular dried yeast.  Sedimentation is low to medium, and final gravity is medium.  Optimum temp: 59-75 degrees.

This is marked as directly pitchable yeast and there are no rehydration instructions.

Some instructions for rehydrating yeasts: Suspend yeast in 4 oz of warm water. Do not stir. Let stand for 15 minutes. Stir gently. Add an equal amount of wort to your solution. Cover, let sit for five minutes, and pitch.
---
We Also Recommend
---