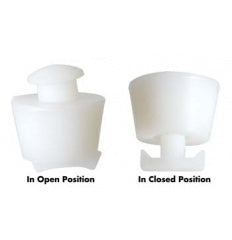 Silicone Bung Breathable Small
Silicone bungs offer a number of advantages over traditional rubber or even wood bungs. They are more durable, have more grip and fit more tightly.  In addition, they won't stain or absorb wine odors over time.
When the two-piece is set to the open position, the bung acts as an airlock and allows the release of CO2 while maintaining a seal against oxygen coming in. This makes the bung ideal for alcoholic or malolactic fermentation. When fermentation is over and you no longer want the bung to "breath" out, you just push the center cap into the bung to create a firm seal and it becomes a solid stopper!

This size bung is designed to fit most barrels under 30 gallons.  We always recommend measuring your barrel's bung hole prior to purchasing. Dimensions are 1 7/8" tapering down to 1 1/2".
---
We Also Recommend
---