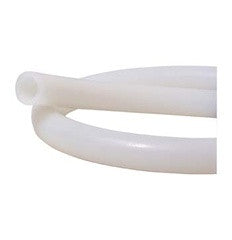 Silicone Tubing 1/2" ID
Translucent, food-grade tubing temperature rated to 500F.
Odorless, tasteless, and inert Silicone tubing is FDA food-grade approved from -100F to 500F. Translucent natural color allows you to see the flow. The perfect tubing for building a personal brewery, especially for any time that the wort in contact with tubing will be above 180F. This tubing is not designed to hold pressures above 20psi.  Can work great with magnetic drive pumps, but please use caution.  We do not recommend it with an impeller pump or for use with household water pressure.  1/2" ID * 3/4" OD * 1/8" thick wall prevents kinks.   Will burst at 30 PSI at 70F.
Quantity ordered will be shipped as a single uncut length.  Sold by the foot.

1/2" ID
3/4" OD
30 PSI Burst at 70F
 
---
We Also Recommend
---