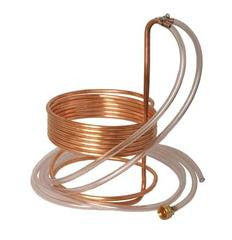 Wort Chiller 25' x 3/8" with Tubing
Copper Immersion Wort Chiller with 25' of 3/8'' copper tubing. 8' of vinyl tubing attached to both the in and the out with a female garden hose fitting on the in side. You will need to use a hose thread adaptor if you attach to your sink. Perfect for a kitchen environment where the sink is close by. These Wort Chillers are ideal for 8 Gallon Heavy Duty Kettles! Copper tubing ensures a fast heat exchange, getting your wort cooled down and into the fermentor as quickly and cleanly as possible!

The measurements are:
Approx. 10" diameter, 8" to the top coil, 15" to the bend to go over the lip of the kettle.
---
We Also Recommend
---